How to win friends and influence people, by W. Axl Rose:
Guns 'N' Roses have lost the support act for their fifteen-date tour after only one night.

The Eagles of Death Metal reportedly walked out of the tour after a run in with both the audience and Guns 'N' Roses frontman Axl Rose.

At their opening performance in Cleveland the band were apparently booed by the crowd. Then, during the main act's set, Axl Rose referred to the band as "The Pigeons of Shit Metal".
First, has he walked by a mirror lately? Let's just say he shouldn't really be comparing anyone else to a pigeon or any kind of poultry in general.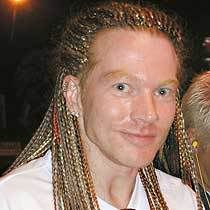 "I'm supposed to have three pounds of breadcrumbs backstage. It's in my rider, motherfucker. CAW! CAW!"
Second, no offense to the EODM, but you kind of deserve what you get when you voluntarily go on tour with Axl Rose, without having lost a horrific bet or something. The guy can't tour without beating up fans, starting riots by showing up 90 minutes late, or feuding with the opening band. I don't get why he doesn't just tour solo, and do a 2 hour show, or whatever. The delusional, bald-mulleted, middle-aged section of their fan demographic are likely to boo whatever comes on first anyway. You might as well be Carrot Top doing warm-up comedy for Deicide.
EODM certainly had a sense of humor about the whole thing.
In a statement by the Eagles of Death Metal, lead singer Jesse Hughes said: "At first the audience refused to welcome us to the jungle, but by the time we took our final bow it had become paradise city.

"Although Axl tried to November rain on our parade, no sweet child o' mine can derail the EODM night train. We say live and let die."
To which Axl responded, "Hey, it's been 14 Years since I did anything relevant. It's not So Easy to get attention anymore." (rimshot)
I haven't seen Guns 'n' Roses live since they put together a completely new lineup of guys no one wants to see since they reformed, but I heard that he has his voice back and is playing covers and the whole thing sounds pretty good. I still wouldn't go see them because I'm not a sucker. I saw the Guns 'n' Roses/Metallica show years ago and he decided to show up 2 hours late. I'll stick to YouTube, where I can fast-forward the 90-minute gap where no one is on stage and the audience starts rioting.
Sponsored Links from Around the Internet